Online Safety
Online Safety
All children at Hurst Hill follow the SMART online safety rules to keep themselves safe in the digital world. Staff regularly educate children about the importance of staying safe and what they should do if they encounter something online which makes them feel uncomfortable.
Staying safe online is not just about safety when using a computer or tablet – nowadays children carry the equivalent of a PC around in their pocket through the use of their mobile phone. As a school community it is important to keep all our children safe by having open conversations and taking an active role in monitoring suitable screen time.
Remote education top tips for children
Remote education top tips for parents
How can children stay safe?
Read, sign and follow the RM User agreement at the front of their planner.
Remember to 'Be kind' and follow the SMART rules.
Only use safe search engines such as Kiddle
Never share passwords
Only use age related APPS and the correct age related games
Tell a trusted adult if worried.
Remember there is always an expert at hand should one be needed through NSPCC, Child.net or CEOP
Online safety advice for parents.
Parent also play an important role in keeping children safe and for this reason we endeavour to take every opportunity to support parents to understand the risks, the law and how to guide children in the digital world. We do this through parent workshops, online safety assemblies for parents and children, parents' evenings, newsletters, parent mail, websites and learning platforms as well as local online safety incentives and constabulary.
We ask that parents:
Endorse (by signature) and adhere to the pupil acceptable user agreements as stated in each child's school planner.
Promote online safety practice by following the guidelines as stated in the Hales Valley Trust Online safety policy. This is inclusive of appropriate use of digital video images and the use of mobile phones.
Only take images of their own children when visiting school to celebrate achievements – following consent from the Head teacher.
Role model acceptable use with children and teach good habits by limiting screen time and setting parental restrictions and passwords.
Set clear expectations and positive rules together. Have family rules about what is acceptable online and follow PEGI ratings, use age related APPS only.
Establish good habits early on through conversations about staying safe online. In school we teach the SMART rules – this is a good way to start a conversation.
Familiarise yourself with the laws around online bullying and the consequences.
ADULT help
CEOP
https://www.ceop.police.uk/Safety-Centre/
Childnet and IWF
Report Harmful Content
https://reportharmfulcontent.com/
Hurst Hill regularly communicate with Young Person and Early Help Officers available via the Police: PC Katie Russell and PC Andy Peters. Both kindly visit the school to support and educate children and parents annually. For further assistance regarding Online Safety and the Law please contact PC Jonathan Edwards: Partnership Team 01384 8513091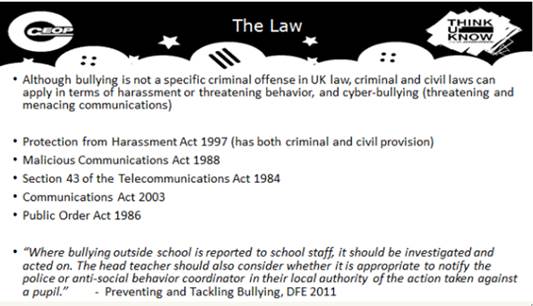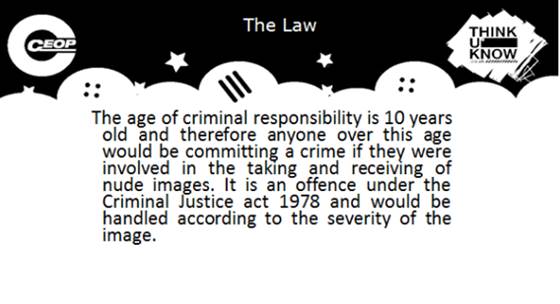 Useful Websites For Online Safety Advice